October 24, 2018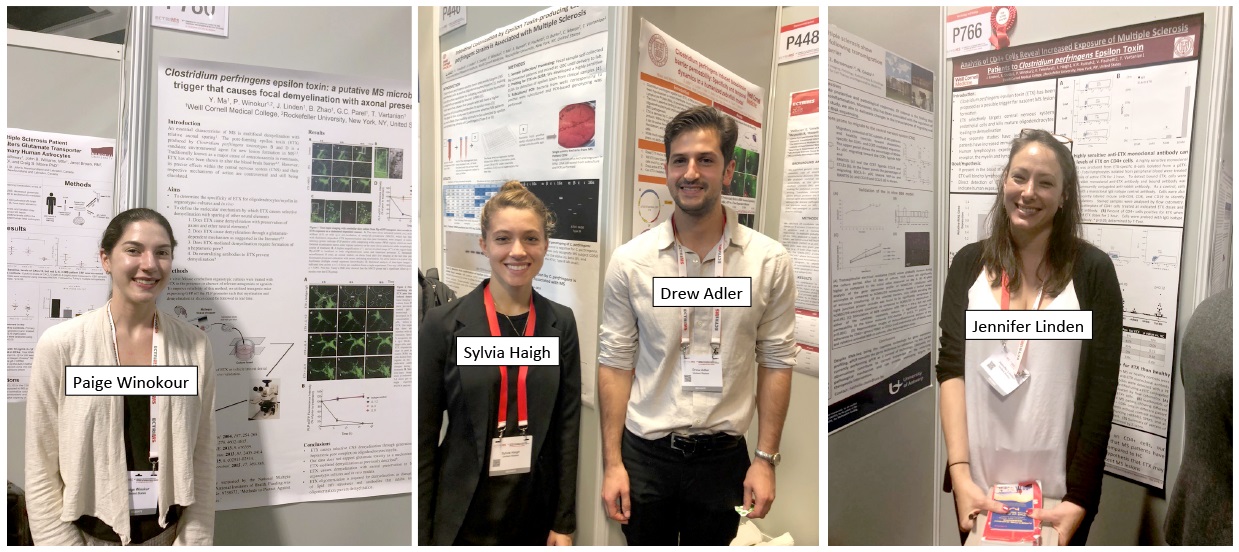 Members of the Vartanian lab were recently in Berlin, Germany to present their most current research at the 34th Congress of the European Committee for Treatment and Research in Multiple Sclerosis (ECTRIMS).  ECTRIMS is considered one of the most important international MS meetings, providing both clinicians and researchers with the most up-to-date research on MS treatment, pathology and rehabilitation.  Four members of the lab including Paige Winokour, Sylvia Haigh, Drew Adler, and Jennifer Linden presented their most recent research on the hypothesis that the bacterial Clostridium perfringens epsilon toxin may be responsible for initiating MS.   
Excitingly, Sylvia Haigh received a travel award to the meeting for presenting her research demonstrating that the epsilon toxin-producing bacteria colonize MS patients but not healthy controls.  
In support of  this work, Jennifer Linden, who was short-listed for a poster award, also presented data that MS patients have increased levels of epsilon toxin in their blood when compared to healthy controls.
Drew Adler presented his exciting new humanized zebra-fish model, demonstrating that epsilon toxin causes blood-brain barrier permeability in human-model, an important pathological step for lesion fromation in MS.  
Finally, Paige Winokour presented work performed with Yinghua Ma demonstrating that epsilon toxin causes focal demyelination, a defining feature of MS pathology.  
Together, this data strengthens the hypothesis that epsilon toxin may be responsible for initiating MS and is receiving international attention.   
by 
Jennifer Linden